40% OFF EVERY ORDER + FREE BARS & SHAKES + FREE SHIPPING!
Expires: Ongoing
40% OFF EVERY ORDER + FREE BARS & SHAKES + FREE SHIPPING!
Expires: Ongoing
LEAN13 WITH FREE BARS & SHAKES + FREE FEDEX SHIPPING!
Expires: Ongoing
LEAN13 WITH FREE BARS & SHAKES + FREE FEDEX SHIPPING!
Expires: Ongoing
REFER A FRIEND AND GET $50
Expires: Ongoing
REFER A FRIEND AND GET $50
Expires: Ongoing
About Nutrisystem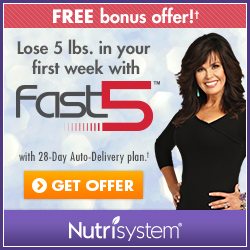 Nutrisystem was founded in 1972 and eventually went to a direct sales model in the 1990s. The program has expanded to include a full service website and even a number of retail services with some of its products being made available at Kroger grocery stores around the country.
Nutrisystem was created to help people out with losing weight through a special system known as the glycemic index. This was desired to incorporate a healthy diet with Nutrisystem food with a good exercise program to increase anyone's ability to lose weight.
Glycmeic Index
The Glycemic index is heavily factored into the program. This index relates to how blood sugar levels rise after eating. The goal of the Nutrisystem program is to use a diet that is low in its glycemic index rating. A low GI means that it is easier for the body to burn off its calories and to use its food as energy. This is to increase the body's metabolic rate in the long run. This will improve anyone's ability to lose weight after a while.
Nutrisystem's Balanced Program
The Nutrisystem program uses a simple setup that carefully balances your diet. Its plan uses six balanced meals with a snack each day. This is used with Nutrisystem foods and other types of fresh grocery fruits and vegetables.
It also involves a good exercise program. Much of this comes from the My Daily 3 system. Nutrisystem uses this program to encourage people to use three ten-minute activities where their bodies are relatively active. This can include strength and aerobic training exercises among others.
People can also get help with trained counselors who can provide online help or by phone with all their dietary needs. This includes help from a number of registered dieticians who have solutions for those who want to find different ways to keep their bodies healthy and active.
Foods Used on Nutrisystem
The foods that are included in the Nutrisystem diet include a variety of choices. These include foods with less sodium and added sugar than what people usually find on the market.
For example, people can find breakfast products like wheat bagels and granola products followed by lunches with things like red beans, chicken noodle soup and rice. The dinners include items like beef patties, ravioli and chicken alfredo just to name a few.
This is a very small sampling of what Nutrisystem has to offer. The program sells nearly 150 different entrees for all parts of the day. These include some frozen choices like a chocolate brownie sundae for dessert.
The products are designed with simple packages that are easy to make and will be safe to consume without having to worry about all the additives or other problematic items that come with prepared foods. People can simply read the nutritional labels on each product to see what they will get out of the diet and how beneficial things can be. Everything in the program is also designed to be easy to prepare. The instructions for preparing foods are all listed right on their packages.
Nutrisystem's Individual Plans
A popular part of the Nutrisystem diet is that every person who enters the diet can enjoy foods in different forms. These include individual programs for men, women, seniors and even a program for diabetics. The foods are designed with a few different rules and standards for making them healthier for different people.
The programs for people with diabetes are particularly interesting. They are designed with the support of the American Diabetes Association. The foods in this program are all designed to improve the body's ability to lose weight and to keep it as healthy as possible. In fact, it improves the body's ability to maintain its blood glucose levels making it easier for a person to lose weight.
Nutrisystem Deals and Discounts
The cost of getting into this program is relatively affordable for most people. People can get into the Nutrisystem program by ordering a 28-day program that includes a full series of foods to last for twenty-eight days. This can cost as little as $260 although it costs more to get a few of the special features like counselor access or access to different frozen foods.
The discounts that come with the program do vary based on what's around. There are various promotional codes offered by the site for things like free shipping or even discounts on a few additional foods in the program. The promotional codes will change throughout the year based on what is available for sale.
People who are looking to lose weight can use the Nutrisystem program to help make it a little easier for them to struggle in a weight loss program. This program will let people lose weight with a series of simple and easy to use foods to give them control for all sorts of different dietary plans that people want to follow.